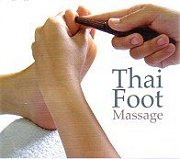 Thai foot massage
This treatment will not only ease your aching feet but also any lower leg aches and pain you may be experiencing. As the lower legs and calves are treated in this unique therapy.
What to expect from a Thai foot massage treatment
You will be asked to remove your shoes socks and if your lower garments are tight fitting these will need to be removed in order to reach your lower legs.
If you are having the deluxe treatment you will be asked to place your feet into the warm water that is infuse with natural flower and flora water. A specially prepared foot scrub will be applied after 10 minutes. Then you will be asked to lie down on the therapy couch.
It is then that the invigorating massage begins with a warm up routine on your foot and legs. One leg will be worked on and then the other. Women will have the left foot treated first and men the right as this is the tradition in Thailand.
When treating the feet and legs the therapist will apply a small amount of coconut based cream made for you by airtherapies with two essential oils added to enhance the overall treatment.
Sen Energy lines are stimulated as the foot and legs are treated with the reflexes on the feet stimulated further with a Thai foot stick. Providing a deeper treatment than ordinary reflexology and a more invigorating massage that is relaxing and beneficial to the whole of the body and mind.
Benefits of Thai foot massage
Reduces stiffness in the joints and muscles of the lower legs
Improves circulation
Boosts the immune system
Reduces stress levels
Improves flexibility of feet
Encourages eliminations of toxins
After the treatment you will have a few moments to relax and then be offered a refreshing herbal tea to gently bring you back around.
£30 1 hour
£45 deluxe 1hour 30min